KAMA
Katharina Maschmeyer - tenor & soprano saxophone, bassclarinet
Nils Pollheide - electric guitar, acoustic guitar, e-bass
Philipp Rüttgers - rhodes/synth bass (Clavia Nord), piano
Jens Otto - drums
special guest: Nippy Noya - percussion
Following three regular studio albums, KAMA (formerly KAMA Quartet or Katharina Maschmeyer Quartet) released their first tribute album on 09/02/2016. It features a new interpretation of John Coltrane's legendary suite A Love Supreme. The album also features a very special guest: legendary Indonesian percussionist Nippy Noya, one of the most renowned and sought-after conga players in Europe.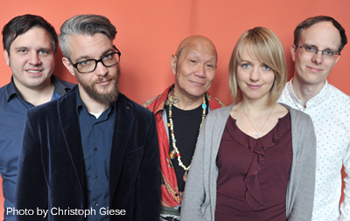 With its refreshingly unconventional and very groove-oriented stylistic blend, KAMA has made a name for themselves all over Germany. To hear jazz played with such an exuberant joie de vivre, dancing ever so effortlessly between improvised music and funk-infused rock, is truly a rarity. The unpredictable mixture of soulful grooves and inspired, surprising twists and turns makes for an intriguing listening experience.
The recent amount of attention she and her quartet has gotten from the press after their first studio albums, such as "Duck On Ice, Flying Cow" (features in Jazzpodium, Sonic, Jazzthetik, among others) indicated already they really are "on to something". Following quite a few albums and two Live VINYL LPs released worldwide, concerts at prestigious festivals such as the Leverkusener Jazztage, Jazzfestival Karlsruhe, Jazzfestival Saarbrücken, Jazztage Kraichtal, Winterjazzfestival Brelingen, this band has grown into a tightly knit unit with an equally multi-faceted and open sound.
The latest album "A Love Supreme / Universal Tone" got such many great reviews!
•    it was featured in the "The best albums of 2016" by "Die Zeit" magazine
•    listet in the "25 best albums of the year 2016"  in blog.about-music.de
•    featured on  BR (Bayerischer Rundfunk)
•    Album of the Week on NDR Info Play Jazz

•    "Highlights in September" at Deutschlandradio Kultur
•    got Features in Jazz Podium & Jazzthetik magazines
"The saxophonist with the powerful sound is lauded as one of the best new German jazz artists, and rightly so. ... Her quartet has definitely proven it's a winner."
- JAZZ THING
"KAMA are one of the most dynamic ensembles across the globe! (...)
Neuklang continues to serve up only the finest talents Europe has to offer and the Katharina Maschmeyer Quartet is no exception!"
- Brent Black/www.criticaljazz.com
HISTORY:
Kama (formerly KAMA Quartet or Katharina Maschmeyer Quartet) was founded in 2006. Many successful and reputable concerts in Jazzclubs like Club Voltaire in Frankfurt followed. 2010 the Debut Album which documents the first creative years of the quartet was released on the label Mons Records. The album received many good reviews and a feature in one of Germany's most well known jazz magazines "Jazz Thing". For their second album the quartet invited WDR jazz award winner Frederik Köster on trumpet.
"Frederik Köster himself was very impressed by the recording: 'Katharina is not only an experienced saxophone player with many technical skills, but also a very talented composer.`" - Sonic
The third album of the quartet named "Duck On Ice, Flying Cow" was released in 2014 by Neuklang records and got many very positive reviews and features in different jazzmagazines (JazzPodium/Sonic/Jazzthetik). "With always creative arrangements, great manual skills and musical richness the quartet plays a very ambitious and exciting jazz which enthuses the audience." - ruhrjazz.net about a concert of the quartet
About "Duck On Ice, Flying Cow" (2014)
Fast-paced unisono passages, intricate odd measures and elaborate bass lines alternate with improvised parts. There is always room for ballads and more quiet sections as well, as displayed on the group's album "Duck On Ice, Flying Cow", which is yet another fascinating aspect of this superb and highly recognisable quartet.
"The interaction with Nils Pollheide, g, Jens Otto, dr, and Philipp Rüttgers, Rhodes, is marked by mutual inspiration, empathy, groove and movement, harmony and intensive dialogues. The well elaborated, smart and angular profiled compositions of the leader show soul and hard bop aspects, rhythmic capers and melodic richness." – JAZZ PODIUM